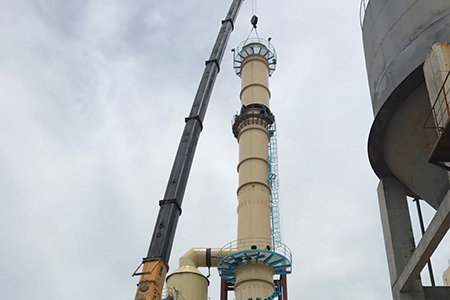 With the steady realization of the national environmental protection policy, energy conservation and emission reduction have been continuously deepened and refined. The operation of flue gas desulfurization systems in light industry, chemical industry, metallurgy, electric power and other industries is gradually normalized and standardized. Wet flue gas has become a new inevitable product. Anticorrosion has become a priority for the domestic chimney industry.
  With the acceleration of urbanization and the accelerating pace of industrialization, the problem of old concrete chimneys is seen everywhere. However, due to space constraints, difficulties in dismantling and high costs, these chimneys have become a legacy problem. They not only occupy a large area of land but also directly affect the beauty of the landscape. Furthermore, they may collapse at any time.
  Years of communication with the International Steel Chimney Association and the implementation of plenty international projects show that steel chimneys have become a main role in developed countries.
  The advantages and basic requirements of steel chimneys include beautiful appearance, excellent anticorrosion, quick installation, saving space, easy match between equipment, detachability, replaceability, recyclability, etc.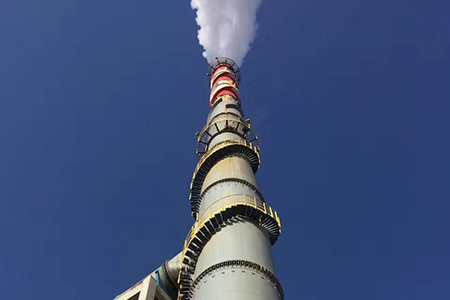 Rainbow's steel chimney system is the result of a combination of international industrial chimney technology, large domestic design institutes and universities. It meets the exhaust requirements of various boilers, industrial furnaces and other equipment. In 2013, Rainbow participated in the edition of steel chimney specifications and chimney reliability appraisal specifications, which filled the gap of China's steel chimney industry. As a member of the International Industrial Chimney Association, the company takes European standards and American standards as reference, leading the domestic chimney technology and providing customers with complete chimney design, manufacturing and installation services.
Rainbow provides mainly two types of steel chimneys: self-supporting double-tube insulation chimney and three-tube cluster industrial steel chimney both of which are world leading. Corrosion problems are solved with reliable anticorrosion solutions and safety problems with reliable structural schemes. Sound product quality and all-around customer service totally eliminate customers' worries.