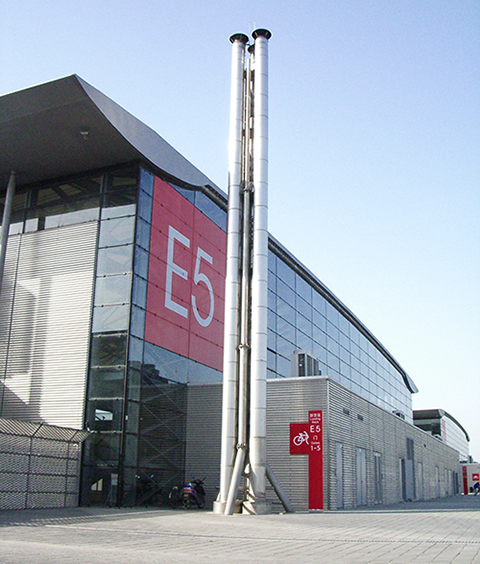 Since the 1990s, thanks to the rise of high-rise buildings in China, Rainbow keeps learning from the advanced ideas of foreign chimney technology and has become a well-known brand in the prefabricated chimney industry.
Rainbow believes that the chimney of high-grade civil buildings must be durable, easy to install and construct in narrow space, must have reliable heat insulation, must be scientifically calculated and meet the strict requirements of related codes and specifications. After years of research and development and practice, Rainbow developed successfully its YBS prefabricated stainless steel chimney that is well qualified and technologically advanced. Rainbow has become a professional and trustworthy synonym in the industry.
Though Rainbow has designed, manufactured and installed thousands of chimneys and won numerous honors, it never stops going forward. Rainbow is committed to finding better solutions for the conflict between chimney heat dissipation and fire protection requirements caused by vertical shaft closure, insufficient exhaust draft due to excessive length of horizontal pipe, excessive resistance affecting smoke exhaust, production and installation of excessive diameter pipe, shared chimney of multiple equipment, smoke exhaust when single equipment is opened, reconstruction of civil concrete chimney in shaft space, layout, installation of chimney in underground trench, and ventilation and waterproofing of the chimney system. Rainbow collaborates with many world-class counterparts from the USA and EU and establishes with them R&D centers. It also works with famous universities in China and establishes with them engineering technology centers. Rainbow is listed to CE certification and has obtained the international advanced chimney computing software package as well as chimney installation qualification. Rainbow sees both the appearance and nature of chimneys. Therefore, we will continue to work hard, because to meet the needs of customers and create services beyond their expectations is the consistent pursuit of Rainbow Chimney.
What Rainbow keeps providing to the customers are not just chimneys but specialized and modularized system solutions.